OralDisinfect™ UV Light Toothbrush Holder
Your toothbrush can put your family at risk if not sterilized!
Destroy the bacteria in your toothbrush using OralDisinfect™ using the new UV technology
✔️ Toothbrush Holder & Hooks — Holds 4 toothbrushes and lets you hang your shaver, body scrubbers, etc.
✔️ Toothpaste Dispenser — Pushing the lever will squeeze out your toothpaste automatically
✔️ Battery Powered UV Light — Emits a powerful UV light that has a 99.9% bactericidal rate. Charge OralDisinfect™ for about 6 hours and can last for more than 1 month
✔️ Motion Sensor Protection— OralDisinfect™ has a motion-sensing feature which will turn off the UV light when someone is near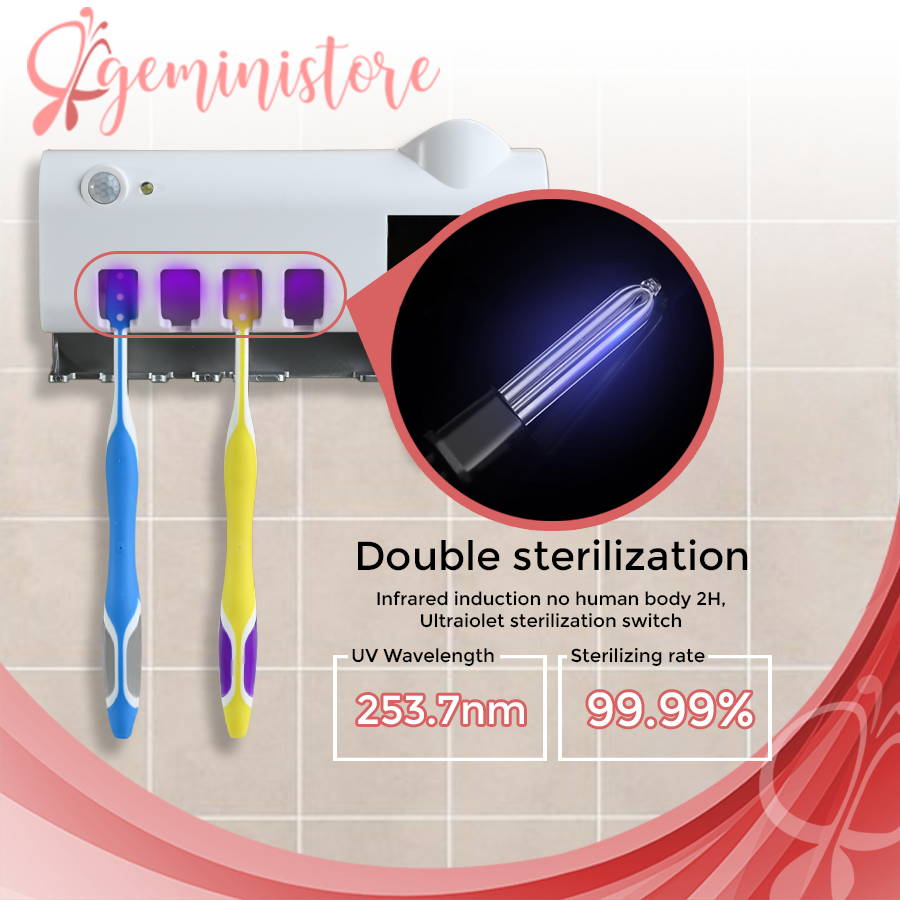 Ultraviolet sterilization
Have you ever had a toothbrush that smells bad? That happens if your toothbrush is not sterile.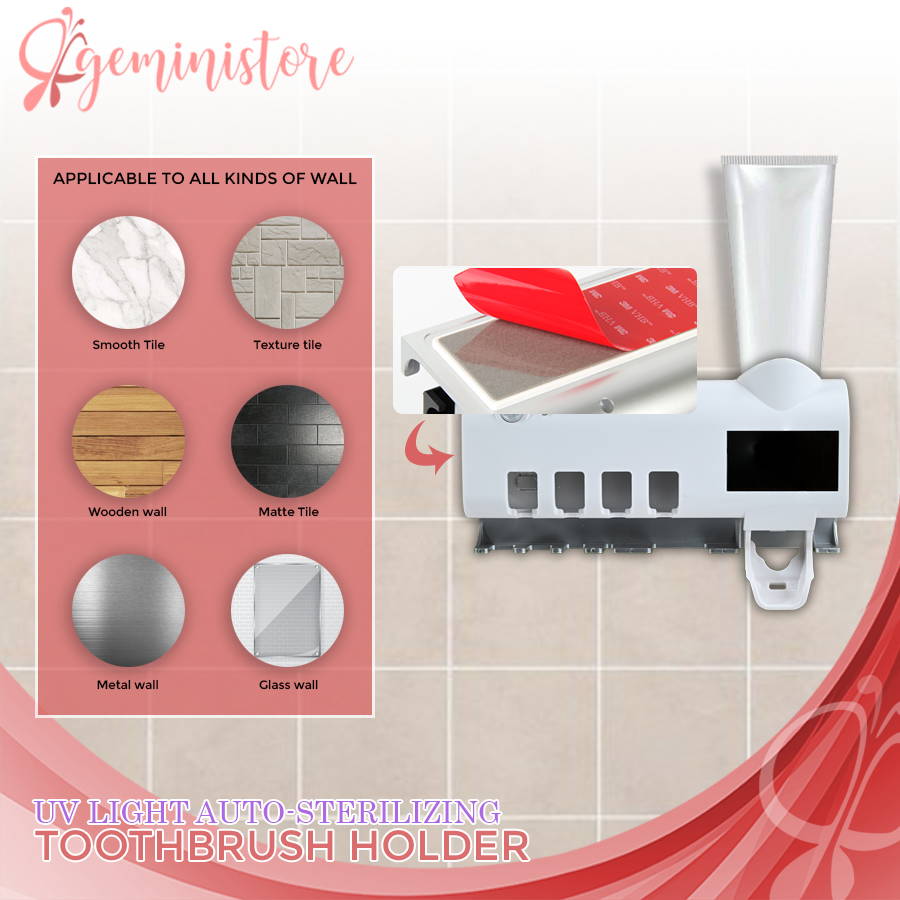 Wall Mounted For Easy Access
Because of 3M Double-sided type, it can be installed in any kinds of wall: Tiles, Wood, Metal, or Glass Wall
Material: 
ABS+PP+ electronic components
Charging Voltage:
DC 3.7V
Battery:
2000mAh Lithium Ion
UV Lamp Power:
1.2W
Dimensions: 
19cm x 12.5cm x 4.7cm
👉 1x Toothbrush Holder
👉 1x Micro Usb Charger cord
👉 1x User Manual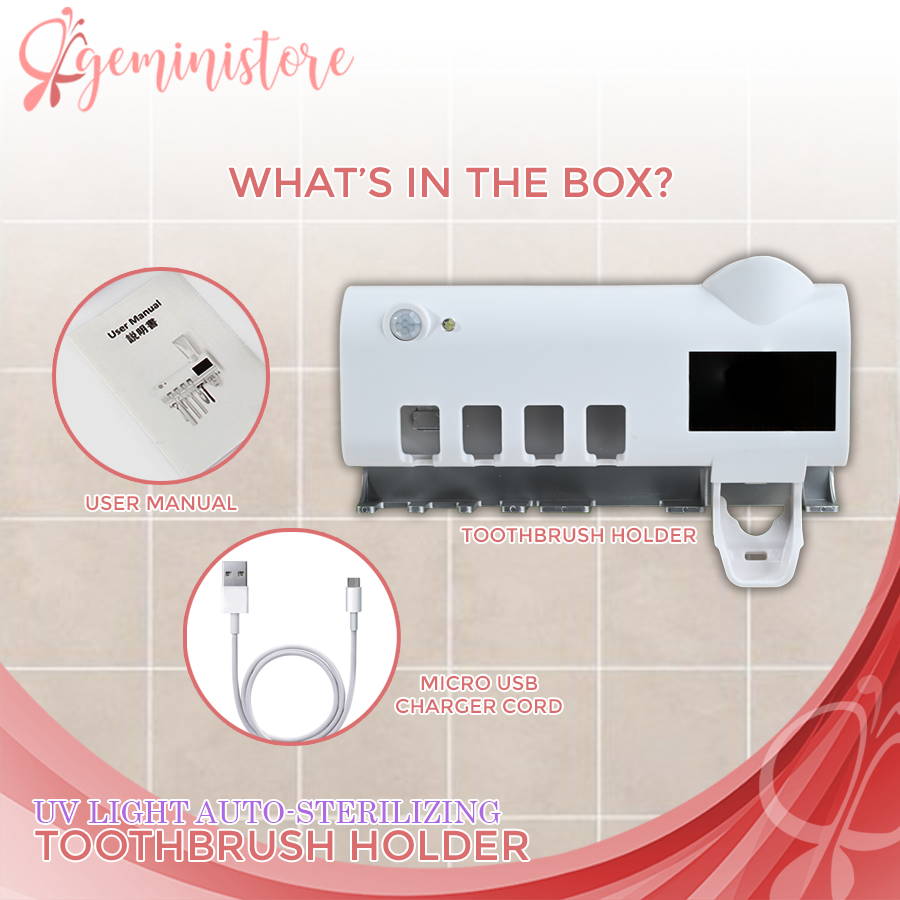 7-Day Moneyback Guarantee
We understand that it's difficult to measure the quality of the product just by looking at the photos.
Feel free to place your order, and if our item doesn't meet your quality expectations - just send it back to us and we will refund your money.
No questions asked.
We got your back!
Once you make a purchase with us, you're protected with our 7 day money-back guarantee. That makes your purchase risk-free!
Not happy with your purchase?
We put a lot of effort to ensure you provide you only the best. But we're not perfect. If there's something wrong with the product, please send us a video through our Facebook Page to describe what's wrong and we'll bend over backwards so you'll remain a happy customer.
How does refund work?
As long as your purchase is within our 7 day guarantee, you're eligible for a refund.

To refund your purchase, please return the product to its original packaging with all the parts and deliver the package to the following address:
Block 49 Lot 10 Blazing Star Street Evergreen Executive Village Bagumbong, Caloocan City
After sending the package to our warehouse, please send the shipping receipt to our Facebook Page and we'll deduct the shipping cost to your purchase amount. Upon inspecting the product, we'll remit the remaining balance to you through BPI, BDO, or any local remittance centers accessible to you.
Manuel Janolino — Story of a retired chief engineer
Mr. Manuel Janolino is one of Gemini Store's happy customer.
In this video, he shares his experience with being doubtful from buying online until he became a satisfied Gemini Store customer.
He initially purchased the Turbo Power Scrubber, then he bought the upgraded version, Gemini Premium Scrubber, which was shown in the video.